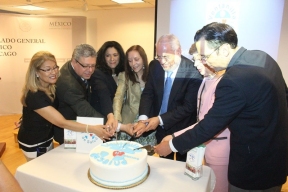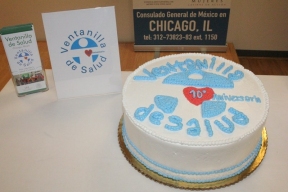 The Health Window Program, "Ventanilla de Salud", is a Mexican government initiative developed by Mexico's federal Ministries of Health and Foreign Relations, and implemented by all 50 Mexican Consulates in the United States, with the support of local health organizations.
In Illinois the Health Window Program was established in 2004 at the Consulate General of Mexico in Chicago, to serve the Latino community in our jurisdiction with the support of a wide network of health agencies, health departments, hospitals, community organizations, schools, universities and churches, serving around 800,000 people in ten years.
Since 2008, as a result of a strategic partnership with the Consulate General of Mexico, "Mujeres Latinas en Acción", has functioned as the lead agency of the Health Window Program in Chicago, Illinois hence being responsible of operating the Program.
With the support of a hundred and fifty health partners, in 2013 around 150,000 people was benefited with 5000 screenings and vaccines, 1600 referrals to health institutions, and 1500 health educational sessions on several topics and while the customers are waiting for their Consular documents, our people received important information regarding health education.
The Health Window Program serves as a bridge between institutions, nonprofits, and the community, regardless of their immigration status, to provide access to health services in Illinois, Wisconsin and Northern Indiana.