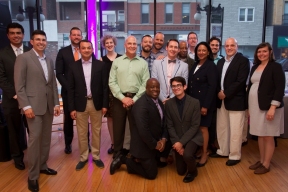 Howard Brown Health Center (HBHC) announced that it has elected seven new members to its Board of Directors, ensuring its leadership continues to reflect the diversity of HBHC's patients and community. The appointment of the seven new members is the result of a regular, yearly Board review. The newly elected board members will begin their service July 1, 2014. The appointments include:
• Roger (Rogelio) Fierro-a Social Enterprise/ Venture Capital Executive
• Becky Rowland-a Public Health Expert
• Emily Sater-Murray-a Volunteer and Advocate for Lesbian, Bi-sexual and Queer Women's rights
• Robert Schultz-a Campaign and Management Executive
• Miguel Torres-a Data Storage Engineer
• Mario Treto-an Assistant City Attorney for the City of Evanston, and
• Oscar Zambrano-a Healthcare Professional
With the variety of professional backgrounds and cultural expertise these new members bring to HBHC's Board, the community health center will continue to excel in understanding and meeting the needs of its diverse patient base.