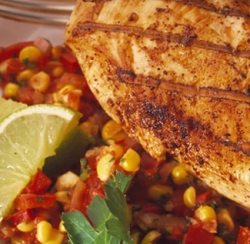 (270 calories)

Ingredients:
1/2 cup frozen whole kernel corn
1/2 cup seeded and chopped tomato
1 tablespoon seeded and finely chopped jalapeño pepper
1 tablespoon chopped fresh parsley
1 tablespoon lime juice, divided
2 teaspoons finely chopped onion
1/2 teaspoon vegetable oil
1/4 teaspoon cinnamon
1/4 teaspoon cumin
1/8 teaspoon garlic salt
1 medium boneless, skinless chicken breast half (about 5 oz.)
Lime slices (optional)
Directions:
1. Cook corn according to package directions. Drain. 2. In small bowl stir together corn, tomato, jalapeño pepper, parsley, 2 teaspoons of the lime juice, onion and oil. Cover and refrigerate until serving time. 3. In small bowl stir together cinnamon, cumin and garlic salt. Brush the remaining 1 teaspoon lime juice over both sides of the chicken breast. Sprinkle spice mixture over chicken. Grill directly over medium heat for 12 to 15 minutes or until no longer pink, turning once. 4. Spoon salsa on serving plate. Top with chicken. Serve with lime slices (if desired).
Total Time:35