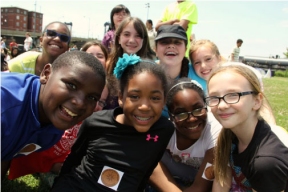 Getting a firsthand look at the kind of learning opportunities that more than 100,000 young Chicagoans will have this summer, Mayor Rahm Emanuel joined 500 young people as they explored the summer offerings of Chicago City of Learning (CCOL) – Chicago's innovative 'connected learning' initiative that is being heralded and copied throughout the nation.
While only twenty or so programs were available to the kids who gathered for a mini Maker Party (where they get to do and make things) and rally, throughout the summer CCOL is offering youth more than a thousand different programs sponsored by more than 120 organizations in neighborhoods throughout the city, on line and through the city's libraries and CCOL Youth Hubs. All programs – whether they are in science or math or sports or poetry – have some aspect of STEAM (Science Technology, Engineering, Arts or Math) to them. And all offer digital badges to participants who achieve the various skills embedded in each program.
The rally featured performances by local talent and words of wisdom imparted by young Chicago professionals who through connected learning experiences created pathways to become leaders in their respective fields. Speakers included: Mayor Rahm Emanuel; Chicago Park District CEO Mike Kelly; Argonne National Laboratory Nuclear Engineer J'Tia Taylor; Sweetwater Foundation Founder and Executive Director Emmanuel Pratt; Google Software Engineer Asher Kach; and musicians Sima Cunningham and Taylor Bennett. For more information, visit ChicagoCityofLearning.org.