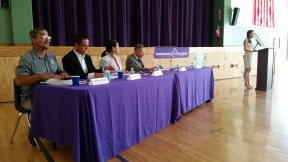 Senator William Delgado (D-Chicago) joined AT&T Illinois President Paul La Schiazza, Representative Cynthia Soto and Alderman Joe Moreno at the presentation of a $60,000 grant from the AT&T Foundation to the all-girls school Josephinum Academy.
"I'm proud to see that companies like AT&T are taking the initiative to provide support for the children in our communities," Delgado said. "We are facing some of the toughest issues ever in Chicago. Our young women need a quality education, and our schools need programs that go the extra mile."
Josephinum Academy plans to use the grant to establish a Summer Bridge Program to help incoming freshman transition to high school by taking them on educational field trips, team building and academic enrichment courses. Returning students will also benefit from the grant by being offered internships in the Summer Enrichment Program and college visits.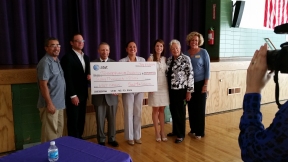 "The staff at Josephinum Academy does a wonderful job at preparing students for college and beyond," Delgado said. "They serve such a diverse group of young women and are able to develop them academically and personally."