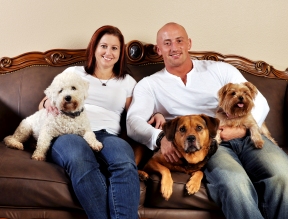 Are you looking for an afternoon or evening out that's both fun and different? Try taking your best friend on a double date, says avid dog lover Kris Rotonda, CEO of www.YouMustLoveDogsDating.com. "If you really want to get to know someone you're dating, then have them meet your cherished live-in companion, your dog – or, in my case, dogs," says Rotonda, who runs a dating site for singles who love dogs.
"Better yet, if your date has a dog, too, why not double date with your dogs?" says Rotonda's girlfriend, Denise Fernandez. "It's an effective, natural and unpretentious way of getting to know each other and the significant four-legged others in your life."
With so many potential romances starting online, that first face-to-face meeting can be even more nerve-wracking, Fernandez points out. Conversations have occurred; expectations have built. At a loss for where to take a doggy double date? Rotonda offers three ideas with lots of potential for a good time.
•Look up the nearest dog beach or park: Dog parks and beaches are full of interesting sights and smells, particularly if you're a dog, and room for running and playing games. You and your date can toss Frisbees, take a leisurely stroll with your dogs, or just kick back for some entertaining dog-watching.
•Dog-friendly bars and restaurants: More and more establishments are realizing the value of setting a place at the table for dogs. For those who aren't yet dog lovers, a dog-friendly restaurant or bar is a familiar setting and neutral place.
•Go shopping together. Pet stores are also dog-friendly zones; check out fun new products together, scope out the fish and birds available for sale, you may even get a little paw mani-pedi together!
Kris Rotonda owns four dogs and created www.YouMustLoveDogsDating.com, a dog lovers' matchmaking website, after discovering that dating dog lovers prevented a lot of romantic disappointment.