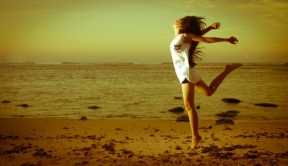 By: Julia Chaidez, Founder of "Live Inspire Train" Boot Camp
1. STRENGTHEN THE MIND
Our mind is our most powerful tool, and it's the number one area to cultivate and train. Find five minutes to relax your mind every day by meditating or visualizing your goals for those few minutes. Select what you allow to flow into your mind carefully and keep your thoughts positive.
2. WAKE UP WITH A PURPOSE
Have a plan! Know when you will work out and for how long, know the foods you will be eating that day and prepare snacks to take with you. For ideas, check out the summer recipes with honey I put together – from breakfast to snacktime and dinner, these options are both easy and delicious. Care for your body, get dressed, beautify yourself and be prepared to conquer your day! Wake up with a purpose and go to sleep with a plan.
3. SLOW DOWN
Take the time to slow down and enjoy the gifts we encounter each day. Apply this concept to your intake of food by taking the time to chew slowly, as it is essential for digestion. It takes 15 to 20 minutes for the stomach to alert the brain that we're full, so eating a meal faster than that can lead to overeating and weight gain. Slowing down will keep you focused on your goals, give you time to reassess if you need to and catch yourself if you are straying from your fitness journey.
4. STAY ACTIVE ALL WEEK LONG
Find something active to do six times a week, but add variety so you can stay motivated. You can do three to four days of intense workouts at the gym or at home and then mix it up with other activities like going for a light jog, dancing or going out for a relaxing hike with your family. And remember that honey is your all-natural source of energy to keep you going throughout the week! Stay strong during your journey to a healthy life by practicing calorie-burning activities and fueling up with honey.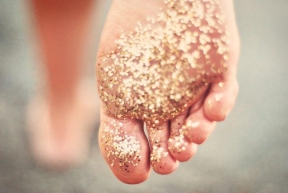 5. MAKE WORKOUTS FUN
Have fun when you work out! Join a group and connect with others that share your same goals, listen to music that makes you move and find activities that you like. And remember that you don't have to sacrifice fashion! Wear colorful activewear and glam up with some lip gloss – enjoy your workouts any way you like. Remind yourself every time you work out of why you are doing it. Soon you'll be having a blast!
6. CHOOSE NATURAL FOODS
Natural foods are your best ally when aiming to lead a healthier lifestyle. When grocery shopping, avoid processed foods and opt for all-natural, wholesome foods like honey; these will help keep you on track to reach your fitness goals. Honey's versatility makes it a great tool in the kitchen for dishes both sweet and savory. Try my summer recipes with honey and see (or rather, taste) for yourself!
7. REST
Getting a good night's sleep provides us with many benefits, and there's nothing quite like waking up feeling energized and complete after a good night's sleep. Staying active is important, but proper recovery and plenty of rest will help you stay on track. B sure to get your Zzzs in every night!
8. DRINK PLENTY OF WATER
Water makes up approximately 60% of our bodies and it's essential for our bodies to function properly. We lose water every day mainly through perspiration (even when we don't work out or sweat), as well as bathroom breaks. Make sure you drink plenty of water throughout the day to stay hydrated and keep your body happy. For an extra boost of both energy and flavor, add a tablespoon of honey to your water for a quick DIY sports drink.

9. GIVE TO OTHERS
I'm a firm believer that we create a positive flow in our lives though giving and receiving. Give your knowledge, love, happiness, support and positive energy to those around you. We receive that which we give, and the more we give the more we receive. When we help others get what they want and need, we are helping ourselves reach our own goal to live the life we want!
10. FIND YOUR PASSION
Living a fit and positive life is about being passionate. Wake up happy every day; if you don't, find a way to make yourself smile! Put your shoes on and smile because you are going to work out. Make a nutritious meal choice and smile because you are nurturing your body. Give to others and smile because you are making a difference. Keep smiling and soon you will discover your passion!