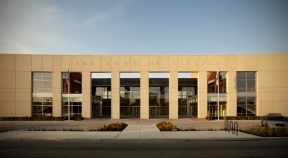 Cook County Judge Patrick J. Sherlock Monday dismissed with prejudice a lawsuit filed in December 2012 by defeated mayoral candidate Juan Ochoa and by his political attorney Frank Avila Jr. against Town President Larry Dominick and more than 20 other defendants.
The Ochoa/Avila lawsuit was denounced at the time as a form of "political harassment" and was intended to aide Ochoa is his now failed bid to run as a candidate for Cicero Town President in February 26, 2013 municipal elections.
The wild and rambling lawsuit made 75 different allegations including that Cicero officials had wrongly claimed that several known street gang leaders identified by the Chicago Crime Commission in their most active Gang Crimes Book were working on Ochoa's campaign.
Cicero officials, the Cicero Voters Alliance, and the other defendants said that they will file a Fee Petition against Ochoa and Avila to recover tens of thousands of dollars in legal fees that were paid to defend the 20-plus defendants against Ochoa and Avila's scurrilous and politically motivated accusations.
"The Ochoa/Avila lawsuit was just another failed attempt by them to undermine the voters of the Town of Cicero who overwhelmingly voted to reject Ochoa's candidacy and to affirm their confidence in the leadership of incumbent Cicero Town President Larry Dominick," said Cicero Town Spokesman Ray Hanania.
"Ochoa, Avila, and the street gang members who campaigned on Ochoa's behalf, were a part of a circus freak show that was more of an insult to the needs of voters than it was a substantive election campaign."
Hanania said that although the lawsuit was frivolous and motivated purely by politics, many lawyers were involved in defending the reputations of President Dominick and the 20 other defendants that included most of the Town's elected officials, Town Attorney Michael T. Del Galdo, and volunteers who campaigned for Dominick's re-election to a successful 3rd term.
"Ochoa and Avila tried to use the lawsuit to substitute for their lack of substantive election issues that were of importance to the people of Cicero," Hanania said.
"The judge's action allows the attorneys for the defendants to step forward now and seek reimbursement for legal fees that they were forced to spend to battle this frivolous, ridiculous and pathetically crafted legal assertion from Ochoa and Avila."
Hanania estimated the legal costs could exceed more than $50,000 or more.
"This frivolous lawsuit from Ochoa and Avila wasted a lot of taxpayer dollars and is an example of the great lengths they would go to in order to grab power without regards to needs or costs to taxpayers," Hanania said.