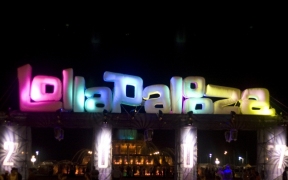 As America's largest music festival, Lollapalooza, returns to Chicago this weekend, the Office of Emergency Management and Communications is reminding the public of the street closures and traffic impacts in the Grant Park area, some of which have already been implemented.
Lollapalooza attracts 100,000 people daily to the three-day event, now celebrating its 10th year in Chicago. The sold-out music event will take place Friday, August 1 through Sunday, August 3, 2014, in Grant Park. Festival hours are from 11:00 a.m. to 10:00 p.m.
In preparation, Balbo is closed from Columbus to Lake Shore Drive for set-up of the event and will reopen on Thursday, August 7. Jackson is also closed from Columbus to Lake Shore Drive and will reopen on Wednesday, August 6.
Additional lane closures will occur on Friday, August 1 through August 3, on Monroe from Michigan to Columbus for ADA drop-off and on Lake Shore Drive from Monroe to Balbo.
Motorists are urged to be aware of the closures, as well as the increased pedestrian activity during Lollapalooza, and to allow extra travel time or seek alternate routes around the area. As always, public transportation is strongly encouraged. Most of the streets will reopen after the event on Monday, August 4. For emergency alert notifications or traffic disruption texts or emails, subscribe to Notify Chicago at www.notifychicago.org.