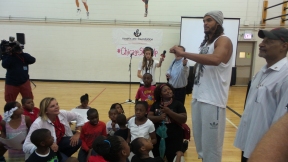 On Friday, July 25, 2014, Noah's Arc Foundation (NAF) is unveiling a new public service announcement (PSA) for its "Chicago Stand Up" campaign at a small release event at the Major Adams Community Committee Center (MACC). A 60-second version of the broadcast clip will be shared with young children and select members of the media before it is released for air.
"The summer months bring a lot of violence, and we felt it was urgent to get this PSA out now in order to bring some hope, change and support to the community," said Joakim Noah, Chicago Bulls center and NAF co-founder and chairman. "I appreciate the support Mayor Rahm Emanuel and the City of Chicago have provided in working to secure participation of the local news stations to run the PSA and raise awareness about this critical issue."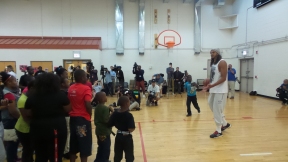 Using the hashtag #ChicagoStandUp, the PSA campaign calls on Chicagoans take a stand against violence and become ambassadors for peace and positivity. Directed by Michael Abt, the PSA features Noah and Chicago Bulls guard Derrick Rose. Common, the renowned rapper and Chicago native, is the voice of the PSA.
The PSA encourages viewers to visit www.noahsarcfoundation.org to learn more about programs and services they can access in their communities. The foundation is striving to connect young people with positive, constructive outlets where they can express themselves in a safe environment.