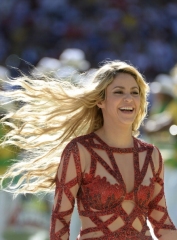 Millions around the globe watched international superstar Shakira perform at the FIFA World Cup closing ceremony Sunday night and while some rocked out to her performance of La La La, others were more interested in recreating her look. Pantene Celebrity Stylist Kim Kimble shared with us quick, easy steps to recreate Shakira's signature waves.
Wash and condition hair with the Pantene Pro-V Daily Moisture Renewal Nourishing Shampoo and Silkening Conditioner to lock in moisture for smooth hair all day long.
Apply a dime-size amount of the Pantene Pro-V Heat Shield Heat Potion Serum and spritz the Pantene Pro-V Stylers Heat Protection Spray evenly from root to tip onto towel dried hair; then comb through evenly and blow dry. I recommend using a medium-sized mixed bristle round brush to ensure that you're achieving smooth hair and adding a bit of volume and body.
Once the hair is dry, take a 1.5 inch flat iron and as you start to straighten hair, twist the flat iron a turn and a half to give hair a not so perfect beachy, rock and roll wave.
Finish the look using by cocktailing the Pantene Pro-V Stylers All in One Styling Balm and Pantene Pro-V Smooth with Argan Oil Smooth Serum and run it lightly through strands to break up the hair and make it piecey.