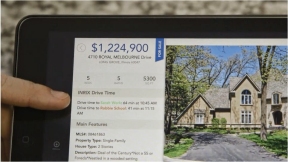 Finding a new place to rent or own has never been easier or more fun now that the RE/MAX Northern Illinois real estate network is marketing a revolutionary state-of-the art real estate app that is free to consumers and RE/MAX Northern Illinois agents and works with both Apple and Android smartphones and tablets.
The RE/MAX Northern Illinois Real Estate App, which can be found in Android and Apple app stores, provides the most comprehensive real estate data available in northern Illinois because it offers active, sold and pending listings directly from the MLS and not third parties. If you would like to download the app, visit http://www.illinoisproperty.com/realestateapp.aspx.
The RE/MAX Northern Illinois Real Estate app delivers all the features the public comes to expect with a real estate app, plus the ability to do highly interactive map searches, GPS enabled searches, and draw customized search areas. Results yield full listing details and large photos, as well as photos of comparable properties users can review side by side. Consumers who sign up for a free "My RE/MAX" account can save their favorite properties and get a full market perspective by having access to detailed data about pending or recently sold properties.