With warm weather comes more opportunities to explore new places, spend time outdoors and share quality time with friends and family. Swimming, walking or having a picnic are just some of the many things you can do together during the Summer. To enjoy these activities safely and accident-free, make sure to keep these tips in mind:
Water safety
Supervise your kids, as well as other children, when playing or swimming in the ocean, lakes, rivers or pools.
Avoid swimming in rough or deep water.
Respect "No Swimming" signs.
To prevent choking, make sure children do not eat or chew gum in the water.
Protection against sun and heat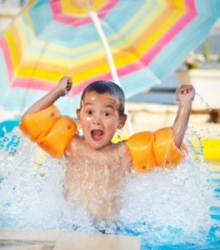 To avoid dehydration or heat exhaustion, make sure to drink plenty of water throughout the day. Avoid beverages that contain alcohol, caffeine or too much sugar.
Wear lightweight, light-colored clothing. Also wear sunglasses and a hat that covers your face and ears.
Keep your lips hydrated with a lip balm that contains sunscreen.
Avoid direct sun exposure when ultraviolet (UV) rays are at their strongest between 10 a.m. and 4 p.m.
Food safety
If you're camping or you plan to do any outdoor cooking, use a cooler with ice to keep your food refrigerated. Make sure to keep the cooling temperature (PDF) at 40 degrees Fahrenheit or below.
Wash your hands thoroughly before handling any food.
To avoid cross contamination, separate raw meat from other food, and place meat on its own plate or tray.
Make sure meats are cooked and served at an internal temperature (PDF) of 140 degrees Fahrenheit or higher.
For more information about food safety contact the USDA Meat and Poultry Hotline at 1-888-674-6854.