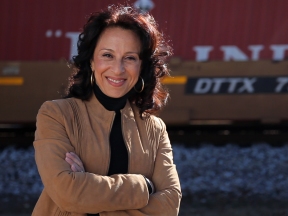 Tras cada cifra hay una historia. Dramáticos cambios en la demografía de este país están afectando la sociedad estadounidense, cambiando el panorama cultural e impactando profundamente como lucimos, votamos, compramos y vivimos. Lanzándose en el otoño del 2014, AMERICA BY THE NUMBERS es la primera serie nacional que examina la nueva sociedad estadounidense, con su creciente número de asiáticos, latinos y afroamericanos, gente de raza mixta, inmigrantes, mujeres, jóvenes y miembros de la comunidad LGBTQ que están creando un nuevo consenso y determinando cada vez más los resultados de las elecciones políticas. Con el creciente poder de compra y la influencia sobre las artes, la cultura y el comercio, estos cambios afectan cada uno de los aspectos de la vida contemporánea del país.
Dirigida por la premiada reportera, autora, presentadora de noticias y productora ejecutiva, María Hinojosa, (LatinoUSA de NPR), esta convincente serie documental presenta ocho episodios de media hora. Producida por Futuro Media Group y presentada por WGBH Boston, AMERICA BY THE NUMBERS se estrena el jueves, 2 de octubre en WORLD Channel, canal digital de medios de comunicación público de multidifusión y será transmitido en PBS a partir del sábado, 4 de octubre del 2014, después de PBS NewsHour Weekend (revise las listas locales). La serie estará disponible en plataforma multimedia y apoyada por una campaña de compromiso cívico y plan de estudio educativo.
"El panorama racial, cultural y social de Estados Unidos está cambiando rápidamente y necesitamos atender los dramáticos cambios ocurridos y lo que significan para nosotros como nación", dice María Hinojosa, reportera de la serie, productora ejecutiva y presidenta de The Futuro Media Croup. "La creciente influencia ypoder de los grupos multiculturales, junto con otros cambios demográficos, son evidentes donde quiera. Es vital explorar estos cambios, así como los retos y oportunidades que presentan para nuestro país".