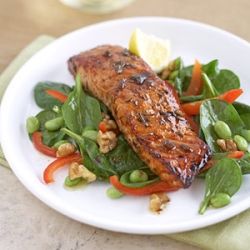 Makes: 4 servings
Ingredients
3 tablespoons pure maple syrup
2 tablespoons balsamic vinegar
1 tablespoon lemon juice
1 tablespoon Dijon mustard
1 tablespoon finely chopped shallot
1/4 teaspoon salt
1/4 teaspoon freshly ground black pepper
2 tablespoons olive oil
2 teaspoons snipped fresh rosemary
4 5-ounce fresh or frozen skinless salmon fillets, about 1 inch thick
1 6-ounce package fresh baby spinach
1/2 cup cooked shelled edamame
1/2 cup red bell pepper strips
1/4 cup chopped walnuts, toasted
Directions
1. In a small saucepan, combine maple syrup, vinegar, lemon juice, mustard, shallot, salt, and pepper. For dressing, in a small bowl, stir together 2 tablespoons of the maple syrup mixture and the olive oil; set aside.
2. For glaze, heat the remaining maple syrup mixture to boiling; reduce heat. Simmer, uncovered, about 5 minutes, or until syrupy. Remove from heat; stir in rosemary.
3. Preheat broiler. Place fish on the greased, unheated rack of a broiler pan and brush with half the glaze. Broil 6 to 7 inches from heat for 5 minutes. Turn fish over; brush with remaining glaze. Broil for 3 to 5 minutes more, or until fish begins to flake when tested with a fork.
4. Meanwhile, in a large bowl, combine spinach, edamame, pepper strips, and nuts. Drizzle spinach mixture with dressing; toss to coat. Spoon salad onto plates; top with fish.
Nutrition facts per serving: 460 calories, 33g protein, 18g carbohydrate, 28g fat (5g saturated), 3g fiber