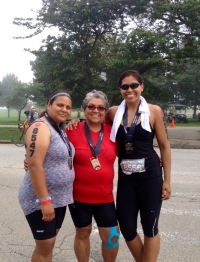 Por: Ashmar Mandou
La semana pasada, más de 9,000 jóvenes triatletas, profesionales y aficionados, se esforzaron hasta el límite mientras nadaban, montaban en bicicleta y corrían en el Transamérica Chicago Triathlon, presentado por Life Time – The Healthy Way of Life Company. Este año marcó el 32º aniversario del evento, con una multitud de más de 50,000 animando a los participantes. Más de 1,050 niños, de 7 a 14 años participaron en el Life Time Kids Trid del sábado, el más grande de la historia.
Greg Bennett (Boulder, CO) obtuvo el primer lugar en la división varonil profesional con 01:49:02 mientras Alicia Kaye (Clermont, FL), que viene de ganar en el TriRock Philly en junio, Life Time Tri Minneapolis en Julio y el Triathlon Panasonic de la ciudad de Nueva York a principios de este mes, encabezó a las damas profesionales, con un tiempo final de 02:01;50. Como parte del Tri del fin de semana, Life Time ha extendido su afiliación con St. Jude Children's Research Hospital a Chicago. 75 "Héroes de St. Jude" participantes recaudaron más de $50,000 para ayudar a garantizar que las familias de los pacientes nunca reciben una cuenta por el tratamiento, viaje, albergue o comida en el St. Jude.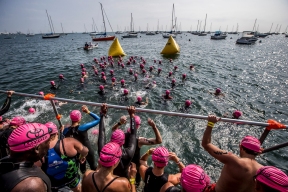 PIE DE FOTOS
Triathlon Sofia Reyes de Chicago
Sofía Reyes, de 8 años de edad, de Lockport, Illinois, participó en su primer Life Time Kids Tri.
Triathlon Mary Kate López de Chicago
De Mount Prospect, Illinois, Mary Kate López, de 13 años, ha participado en el Triathlon desde que tenía 7 años y disfruta cada minuto.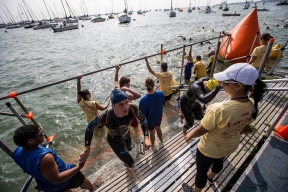 Triathlon Guadalupe de Chicago
En su primer triatlón fuera de su nativo México, Guadalupe Aguilar Apanco, de 27 años, tuvo la experiencia de su vida junto con sus amigos.
Triathlon Familia Galindo de Chicago
La familia Galiindo, de Portage Park, tuvo seis miembros en tres generaciones participando en los eventos de Triathlon de Chicago. Son latinos y están orgullosos de su origen mexicano.