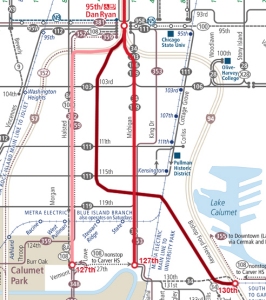 Mayor Rahm Emanuel and CTA President Forrest Claypool unveiled the newly revitalized Harrison Red Line station following the completion of a major modernization project to upgrade the 70-year old station to provide a brighter, cleaner and safer travel environment for the 1.4 million people who use the station each year.
The project work part of a larger, ongoing, comprehensive modernization of the Red Line under Mayor Emanuel's leadership. Since 2011, nearly one-third of all CTA stations have undergone renovation or are funded and scheduled soon for significant renovation or rehabilitation – an unprecedented number of stations to receive significant investment in just a few years' time. That includes more than 20 Red Line stations.
Under the $10 million rehabilitation project, which began in April, crews rehabilitated the three station entrances and the mezzanine area while making additional improvements to the platform area for the 1.4 million people who use it each year.
In addition, over the next eight weeks, CTA crews will be making additional improvements to the station's customer information systems, with the addition of new CTA Train Tracker displays in both station mezzanines and along the platform. Crews will also install a new surveillance cameras, blue light telephones and new public address system speakers.