By: Ashmar Mandou
Last weekend, more than 9,000 professional, amateur, and youth triathletes pushed their bodies to the limit as they swam, biked, and ran in the Transamerica Chicago Triathlon, presented by Life Time –The Healthy Way of Life Company. This year marked the 32nd anniversary of the event with a crowd of over 50,000 cheering on participants. More than 1,050 children ages 7-14 participated in Saturday's Life Time Kids Tri, the largest in the event history.
Greg Bennett (Boulder, CO) took first place in the male professional division at 01:49:02 while Alicia Kaye (Clermont, FL), coming off wins at the TriRock Philly in June, Life time Tri Minneapolis in July and Panasonic New York City Triathlon earlier this month, led all female professionals with a finishing time of 02:01:50. As part of Tri weekend, Life Time has expanded its partnership with St. Jude Children's Research Hospital to Chicago. 75 participating "St. Jude Heroes" raised more than $50,000 to help ensure patient families never receive a bill from St. Jude for treatment, travel, housing or food.
PHOTO QUOTES
CHICAGO TRIATHLON SOFIA REYES
Sofia Reyes, 8 years-old, from Lockport, Illinois participated in her first Life Time Kids Tri.
CHICAGO TRIATHLON MARY KATE LOPEZ
From Mount Prospect, Illinois, Mary Kate Lopez, 13 year-old, has been participating in the Triathlon since she was 7 years-old and enjoys every minute of it.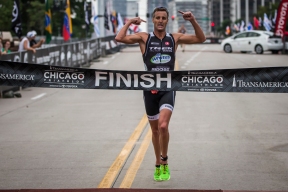 CHICAGO TRIATHLON GUADALUPE
In his first triathlon outside of his native Mexico, Guadalupe Aguilar Apanco, 27 years-old, had the experience of a lifetime along with his friends.
CHICAGO TRIATHLON THE GALINDO FAMILY
The Galindo family of Portage Park had six members across three generations participating in Chicago Triathlon events. They are Latino and are proud of their Mexican heritage.