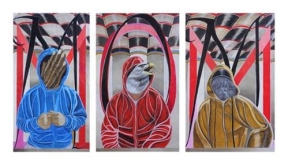 Desde Adentro: Abstractions from the Permanent Collection
Through March 1, 2015
Due to the success of the Mexican Muralist Movement and the educational objective in the 20th century, Modern Mexican abstract artists were not as well known. The Modern works in this exhibition have never been shown at the National Museum of Mexican Art, known for showcasing traditional fine art — people don't expect to see abstract art from Mexico.
PHOTO CAPTION
Image1: Peter Rodríguez, Red Circle / Círculo rojo, 1964, oil on canvas / óleo sobre lienzo, 31 1/2″ diameter, National Museum of Mexican Art Permanent Collection, 2003.579, Gift of Tomás Ybarra-Frausto and Dudley Brooks Collection, photo credit: Michael Tropea
Líneas Borrosas: Selected Works by Gabriel Villa
Through January 18, 2015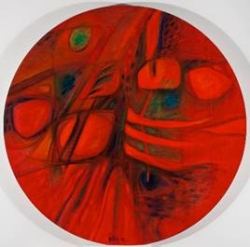 A one-person exhibition of Chicago artist and muralist Gabriel Villa (b.1965). Born in El Paso, Villa now lives and works in Pilsen. Many of his images and icons reference his memories of life along the border and newfound issues in the Midwest, such as ever-present poverty and the politics of empowerment. Curated by Ricardo X. Serment.
PHOTO CAPTION
Image2: Gabriel Villa, MOM, 2013, acrylic on paper – triptych, 42″X70″, Courtesy of the artist
Admission to the National Museum of Mexican Art is always free. Open Tuesday – Sunday 10 am – 5 pm. For more information, visit www.NMMArt.org.