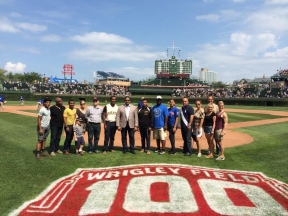 Prior to last Friday's game, the Cubs kicked-off upcoming Hispanic Heritage Month with a tribute to the life of former Major Leaguer Roberto Clemente with a special on the field pregame recognition, which included his son Luis Clemente, members from Clemente High School and the cast from the Off-Broadway musical 'Clemente: The Legend of 21.'
Roberto Clemente, a Puerto Rican born professional baseball player and humanitarian, played for the Pittsburgh Pirates for 18 seasons, winning four batting titles and 12 Gold Gloves. He was the first black Latino player inducted into the National Baseball Hall of Fame after passing away in a tragic aviation accident en route to aid earthquake victims in Nicaragua in 1972. He was known for his baseball skills in right field and his charity work in Puerto Rico and Latin America.
The musical 'Clemente: The Legend of 21', now playing at NightBlue Performing Arts Company at Stage 773 through Sept. 14, celebrates the life of Clemente in the form of a "bio-musical" with a mix of Latin sounds and dance. Members from the show sang Friday's National Anthem and lead the crowd in the 7th inning stretch with Luis Clemente.