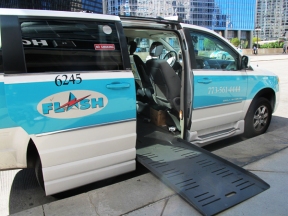 Mayor Rahm Emanuel, the Department of Business Affairs and Consumer Protection (BACP), and the Mayor's Office for People with Disabilities (MOPD) announced Monday that the City is developing a plan to double the number of wheelchair accessible taxicab vehicles (WAVs) by the end of 2018.
This major increase in the number of WAVs will be subsidized in part by the City's Accessibility Fund, a funding source supported by fees paid by the taxi and rideshare industries. This is the latest commitment from the Mayor in a long series of initiatives to improve the accessibility of the City's public passenger vehicle industry.
"We need to make sure that the transportation improvements being made throughout Chicago benefit everyone in our city," said Alderman Emma Mitts (37th), Chairman of the City Council Committee on License and Consumer Protection. "This latest expansion of wheelchair accessible taxis will mean more people will have an easier time moving throughout the city and enjoying the things many of us can too easily take for granted."
"This is another significant expansion of wheelchair accessible taxis in Chicago, building on the progress we've made to improve access to taxis for those with disabilities," said Alderman Ariel Reboyras (30th), Chairman of the City Council Committee on Human Relations. "This will be a major quality of life improvement for many with disabilities, because for someone who is wheelchair-bound, it's not just as easy as going to the corner to hail a cab."
New mandates contained in the City's rideshare, or Transportation Network Provider (TNP), ordinance will increase the number of WAVs on the road, establish additional funding sources, and enhance service delivery. This ordinance passed on May 28, 2014 and was introduced by the Emanuel Administration and co-sponsored by Alderman Mitts. The ordinance took effect at the beginning of September.