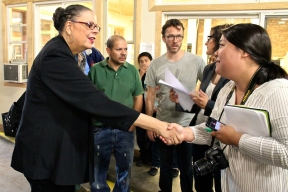 Chicago Teachers Union President and possible mayoral candidate Karen Lewis on Monday heard from McKinley Park families as part of the ongoing "Conversations with Karen" series.
The "Conversations with Karen" series has connected President Lewis with voters from across the city who have expressed their dismay and frustration with crime and joblessness rates, shuttered schools and clinics, the pinch of regressive sales taxes and traffic cameras on their pocketbooks. As Lewis considers a possible mayoral run, these conversations are also a way to bolster democratic participation in the electoral process, with working families weighing in on the issues and policy priorities that matter most to them.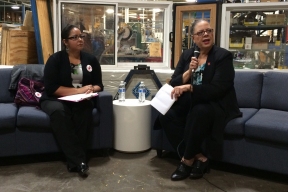 "It is such an honor to hear from working families in McKinley Park and across our city," said CTU President Lewis. "Across Chicago, I've heard loud and clear that voters are fed up with being nickel- and-dimed by the out-of-touch politicians who have closed our schools, cut jobs and wages, and failed to make our neighborhoods safe and healthy. These listening sessions a tremendous opportunity to participate in the democratic problem-solving that is needed to turn our city around."
Organized by the McKinley Park Progressive Alliance, Monday's program was held at the New Ear Windows Cooperative, which good jobs in the community by becoming a worker-owned cooperative after its predecessor, Republic Windows and Doors, closed its doors.