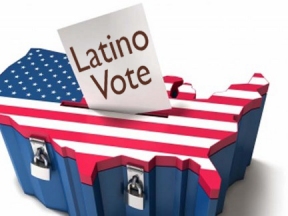 Dirigido a más de 350,000 votantes latinos no registrados en Illinois, el Foro de Políticas Latinas se enorgullece en anunciar el lanzamiento de la Campaña Voto X Voto –un esfuerzo conjunto que incluye a miembros de la Agenda Latina de Illinois y otras organizaciones cívica para registrar a 5,000 votantes para el 7 de octubre y alcanzar a un millón de latinos a través de un esfuerzo público coordinado.
"A pesar de contar con el más alto crecimiento poblacional en Illinois desde el inicio del milenio, la fuerza política de los residentes latinos no ha crecido a la misma velocidad," dijo Sylvia Puente, la directora ejecutiva del Foro. "Esta elección de medio término es una oportunidad importante para movilizar a los miembros de la comunidad para que participen el proceso político.
El Voto X Voto –o Voto por Voto—se enfoca en el potencial exponencial que puede tener el voto individual en las comunidades y el potencial que puede tener en las elecciones de influir a miles de nuevos votantes latinos. A penas 19,000 votos determinaron la elección de gobernador de 2010. El día de las elecciones, el Foro espera que miles de nuevos votantes vayan a votar y que emitan un voto educado. Esta campaña va a trabajar
en remover las barreras que existen para los posibles votantes y va a contribuir en construir una cultura de voto entre los latinos de Illinois.
"Latinos have a lot at stake in the next election. With greater turnout during Early Voting and Election Day, they have potential to determine the outcome of major statewide offices," said Sol Flores, executive director of La Casa Norte. La Casa Norte, a member of the Illinois Latino Agenda, is one of 11 organizations that have signed on to this effort.
"Los latinos tienen mucho por decidirse en las próximas elecciones. Con una asistencia mayor durante el Voto Temprano y el Día de Elecciones, tienen el potencial de determinar el resultado de los cargos más importantes en el estado," dijo Sol Flores, directora ejecutiva de La Casa Norte. La Casa Norte, es miembro de la Agenda Latina de Illinois y es de las 11 organizaciones que se han apuntado en este esfuerzo.