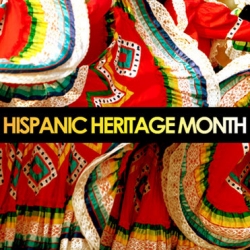 La Biblioteca Pública de Chicago está "Celebrando la Diversidad" con su observancia del Mes de la Herencia Hispana del 15 de septiembre – 15 de octubre, presentando una variedad de programas sobre la cultura, tradiciones y contribuciones de los residentes hispanos y latinos que trazan sus raíces a España, México y las naciones de habla hispana de América Central, América del Sur y el Caribe. A través del Mes de la Herencia Hispana, la biblioteca presentará una variedad de programas de entretenimiento para todas las edades, lo más relevante de la celebración incluye:
Canta el Gallo con el kiri kiri ki!
Plática del Artista: Jason Castañeda
Collage de Lucha Libre & Hechura de Máscaras
Aprenda español para adulto y niños con Chicago Multilingüe
Los Huicholes
Chuy Negrete
Additionally, a bibliography of books about notable Hispanics and Latinos are available at all Library branches and on the Library's website throughout the year. For a complete listing of programs, visit one of the many Chicago Public Library locations or the Library's website at
Además, estará disponible una bibliografía de libros por hispanos y latinos notables en todas las ramas de la biblioteca y en el portal de internet de la biblioteca durante todo el año. Para una lista complete de programas, visite una de las muchas localidades de la Biblioteca Pública de Chicago o bien el portal de internet de la biblioteca en chipublib.org.