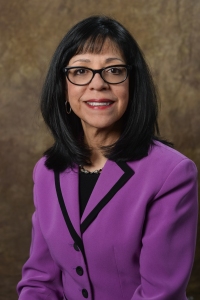 Chicago School of Professional Psychology (TCSPP), escuela líder sin fines de lucro de graduados, dedicada exclusivamente a la psicología y a la ciencia de salud y comportamientos relacionados, anuncia el nombramiento de la Dra. Azara Santiago-Rivera, Ph.D. como Decana de Asuntos Académicos, Campo Chicago. La Dra. Santiago-Rivera pasa al campo de fondos de TCSPP después de servir como Decana de Asuntos Académicos en el Campo Washington, D.C., de la Escuela de Chicago por casi tres años. Continuará fungiendo en su papel como directora del Centro Nacional de Investigación y Práctica de TCSPP: Salud Mental Latina.
"Estamos extremadamente complacidos de que la Dra. Santiago-Rivera se una a nuestro Campo de Chicago para continuar luchando en nuestras metas académicas, trabajando con nuestra facultad, personal y administración", dijo la Dra. Patricia Arredondo, Presidente del Campo.
"Chicago School y yo tenemos una relación cinergética", dijo la Dra. Santiago-Rivera. "Me uní a TCSPP porque abrazo la misión de la institución. Mi cambio al Campo de Chicago es una oportunidad maravillosa. Espero trabajar con nuestra facultad, personal y estudiantes y con el Dr. Arredondo para continuar manteniendo a Chicago School al frente de la educación graduada".
Miembro de la Asociación Estadounidense de Psicología (APA), la Dra. Santiago-Rivera es fundadora editora de APA Journal of Latina/o Psychology. Tiene más de 20 años de experiencia como becaria e investigadora en psicología de consejería y salud mental latina, con previas posiciones en la facultad de la Universidad de Albany, La Universidad del Estado del Nueva York y la Universidad de Wisconsin-Milwaukee.