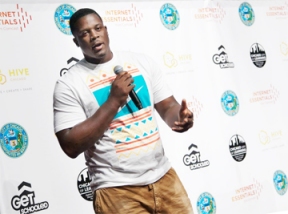 Chicago City of Learning (CCOL), Get Schooled, Comcast y varias organizaciones comunitarias (CBO se unieron al liniero ofensivo de los Osos de Chicago, Jordan Mills, el martes en la academia Comunitaria Roberto Clemente de Chicago, para anunciar un programa "Get Schooled, Get Connected, Challenge" de un semestre de duración, apoyado por Chicago City of Learning. El reto utilizará una plataforma de juego, basada en tecnología, cultura pop, información localizada, reconocimiento y recompensas, para atraer y motivar a estudiantes de 13 a 19 años para prepararse para la universidad.
Este es un muy buen reto que nivela influencias clave en la vida de los estudiantes para llamar su atención", dijo Mills. "Los recursos de tecnología están ahí para atraer a los estudiantes, y no hay duda de que el relevante contenido motivará a los estudiantes a triunfar. Realmente hay unos juegos muy interesantes en el lugar de Get Schooled, especialmente el de los atletas que juegan otros deportes en secundaria".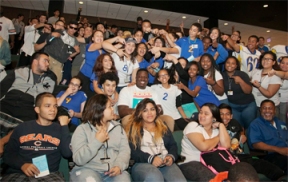 Como primero de su clase, este reto reúne el contenido educativo de Get Schooled y la plataforma de tecnología, el portal localizado de City of Learning y programas Esenciales de Internet de Comcast, que ayudan a las familias de bajos ingresos a conectarse con el Internet en casa. Get Schooled es una organización nacional, no lucrativa, cuyo único enfoque ha sido ayudar a que miles de estudiantes en lugares de todo el país, planeen su futuro.
"La ciudad se está enfocando en ayudar a los estudiantes a prepararse para el colegio", dijo el Alcalde de Chicago Rahm Emanuel. "Para triunfar, tenemos que motivar y mantener a los estudiantes interesados en el proceso. City of Learning ha demostrado éxito en llegar a los estudiantes de Chicago. Con la adición de un contenido innovador y la conectividad del internet en casa, su impacto y alcance crecerán".