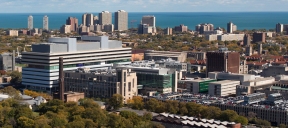 La enfermedad cardiovascular es el principal problema de salud en EE UU y muchas de las condiciones que se le asocian pueden pasar desapercibidas hasta que causan enfermedades serias o la muerte. Para ayudar a identificar a las personas en riesgo –e intervenir de forma temprana cuando el tratamiento es más efectivo—la Escuela de Medicina de la Universidad de Chicago está lanzando un programa de exámenes gratis de enfermedad vascular y del corazón, llamado Dare to C.A.R.E.
El programa Dare to C.A.R.E examina cuatro enfermedades vasculares comunes:
Enfermedad de la arteria carótida, lo cual causa ataques:
Aneurisma aórtico abdominal, lo cual puede ser fatal su se rompe;
Enfermedad de la arteria renal, lo cual puede llevar a enfermedad seria del riñón y a hemodiálisis y
Enfermedad arterial extrema, lo cual afecta a la parte baja de las piernas y puede llegar a la amputación.
El programa inicia el 25 de septiembre con un evento de inauguración en el Centro para Cuidado y Descubrimiento de la Escuela de Medicina de la Universidad de Chicago, 5700 S. Maryland Ave. De las 4:00 a las 7:00 p.m. Una cantidad limitada de asistentes van a tener la oportunidad de que se les examine durante el evento. Exámenes semanales adicionales, que normalmente requieren un ultrasonido no invasivo por 20 minutos, se ofrecerá los sábados a partir del 4 de octubre. Quienes deseen asistir a la inauguración deben comunicarse con Abigail Irvine en el 773-834-0999 para RSVP. Para saber acerca de la elegibilidad o para hacer una cita para un examen gratis visite www.uchospitals.edu/dare-to-care o llame al hospital al 773-834-5599.