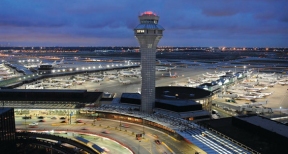 Mayor Rahm Emanuel announced that, for the first time since 2004, O'Hare International Airport has regained its status as the world's busiest airport for flight operations. The announcement was made at the end of the World Routes 2014 convention, the largest and most prominent business-to-business aviation event where airlines and airports decide where to fly in the future, which was held at McCormick Place this week.
From January to August 2014, more than 580,000 flights departed or landed at O'Hare, according to the Federal Aviation Administration. In 2014, Chicago's airports have experienced substantial growth in passenger activity, especially for international traffic. Through the first half of the year, international passenger volume is up eight percent at O'Hare (5.2 million passengers) and 15 percent at Midway (289,300).
This week the Chicago Department of Aviation (CDA) and Choose Chicago are co-hosting the 20th World Route Development Forum, where a record 3,000 decision-makers from nearly 120 countries, 800 airports, 300airlines and 200 tourism authorities are meeting to discuss and negotiate new air service between cities.