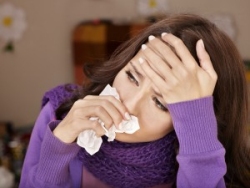 Sickweather is prepared to help Chicagoans navigate through flu season. This is the weekly forecast for your area:
Allergies, Cough, and Common Cold are going around in Chicago. Reports of Common Cold are on the rise.
Sickweather Forecast & Maps explained: Sickweather uses a patent-pending process to track and map reports of illness on Twitter and Facebook. The forecast represents the top trending illnesses reported in any given area. The maps show clusters of activity as represented by a heat map, or individual reports as represented by blue "SICK" map markers.
About Sickweather: Sickweather, a Baltimore-based company, provides online reports and an iPhone app that scans social networks for indicators of illness, and maps real time data on more than 23 different symptoms and illnesses. Sickweather launched their beta website in November 2011, and now qualifies over 600,000 reports of illness each month. In 2012, they were recognized among "100 Brilliant Companies" by Entrepreneur Magazine and featured on the Today Show for successfully identifying the early start of the 2012 Flu Season 6 weeks before the Centers for Disease Control & Prevention (CDC). For more information, please visit: http://www.sickweather.com.