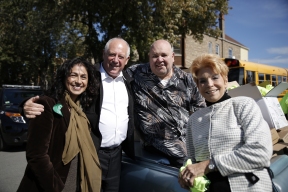 The 46th Annual Cicero-Berwyn Houby Festival ended with a parade Sunday that attracted more than 20,000 fans and included floats and participants from throughout Northwest Illinois. Illinois Gov. Pat Quinn joined Cicero Town President Larry Dominick and Berwyn Mayor Robert Lovero, and a surprise appearance of Hollywood actor Martin Sheen, in leading the parade down Cermak Road.
The Houby Day Festival and Parade celebrates the history of Czech and Slovak immigrants who settled in America and is named in honor of the Mushroom which symbolized the Czech and Slovakian annual harvest. "This is a great day for a parade. So many good people are out here today to celebrate this annual tradition that represents Illinois' diversity," said Gov. Pat Quinn who also walked in the parade last year, too.
Quinn was accompanied by actor Martin Sheen who is supporting the governor's re-election candidacy in the November 4th election. Illinois parades are often platforms for campaign participation. "It's very encouraging to see so many families out on Cermak road today to celebrate this important ethnic heritage," said President Dominick. The parade featured more than 56 participants with more than 100 floats, entrees and groups from as far south as Orland Park.
Parade participants featured Cicero officials including Town Supervisor Joe Virruso, Clerk Maria Punzo-Arias, Collector Fran Reitz, Assessor Emilio Cundari and Trustees Dennis Raleigh, Victor Garcia, Larry Banks and Lorraine Walsh. Cicero is the primary funder of the Houby Parade and Festival.
(Photo: State Rep. Lisa Hernandez, Gov. Pat Quinn, President Larry Dominick, and Judy Baar Topinka)