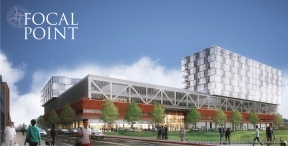 Por: Ashmar Mandou
Un grupo de líderes comunitarios se reunieron el 18 de octubre en el Sudoeste de Chicago para anunciar el lanzamiento oficial de la construcción de Focal Point Community Campus. Cientos de líderes cívicos y miembros de la comunidad se reunieron para conmemorar la próxima adquisición de terreno de la Ciudad de Chicago mientras los vecinos portaban entusiasmados letreros con las palabras "Esta Tierra es Nuestra Tierra".
"Focal Point ofrecerá un lugar de reunión para los residentes de North Lawndale, La Villita y Back of the Yards, para que tengan los servicios y oportunidades tan importantes para crear comunidades económicamente vibrantes", dijo el Alcalde Rahm Emanuel. Focal Point Community Campus llevará recursos a más de 400,000 residentes de los barrios de Lawndale, La Villita, Pilsen, Brighton Park, Back of the Yards y Archer Heights. Focal Point Community Campus es un complejo, de un millón de metros cuadrados, lleno de comercios y servicios recreativos, de bienestar, educación y arte.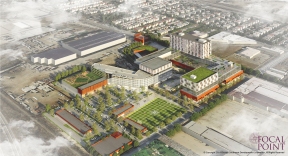 En la reunión, los líderes resumieron como el centro ofrecerá oportunidades de carrera en el área, incluyendo: 3,500 trabajos de construcción, 400 nuevos empleos, 500 nuevos empleos para las tiendas y aproximadamente 400 nuevos empleos en educación, recreación, hospitales y operaciones de cuidado infantil. El nuevo Focal Point Community Campus ofrece:
Fuertes inquilinos minoritarios, brindando a la comunidad acceso a comida, ropa y artículos para el hogar.
Un nuevo Hospital St. Anthony, que continuará brindando servicios médicos y de emergencia sin importar si puede pagar o no.
Un centro educativo con gran variedad de oportunidades educativas, incluyendo una escuela charter y una escuela vocacional, por nombrar algunas.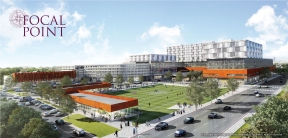 "National Latino Education Institute es un entusiasmado socio de esta urbanización. Cuando el centro vocacional Washburn Trade School desapareció, se llevó consigo el instrumento que brindaba educación en trabajos para nuestra comunidad", dijo Elba Aranda-Suh, directora ejecutiva de National Latino Education Institute. "Ahora, nuestra nueva escuela vocacional y la variedad de programas y servicios que ofrecerá en Focal Point, equipará a nuestra comunidad con los instrumentos necesarios para avanzar en educación y revitalizar los barrios circunvecinos con entrenamiento de trabajo y crecimiento en empleos". Chicago Southwest Development Corporations dirige la construcción. Para más información, visite www.focalpointchicago.org.