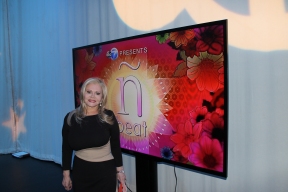 Courage
Well, people approach things differently. I had polio as a kid and I did not walk for a long time and I was called names and bullied for years, years. Then I finally did something about it by joining the theatre and I sang and I played violin and it was those things that helped me see life differently and helped me go after what I wanted. People always ask me how am I so comfortable on air, well, I am a performer. Coming into broadcasting when there were few women and practically no Latinas in any station was quite difficult…I would not wish that on anyone, but I stuck with it because I really loved journalism. I love it.
Message for future journalists
Run [laughs]. Run the other way. Journalism today is not what it was when I started. It is very difficult nowadays to have a career that spans four decades, so you really have to ask yourself how much you love journalism.
Plans on the Horizon
I do have plans, but I want them to be a surprise.
ABC 7 will broadcast its Emmy Award-winning program, THE Ñ BEAT, hosted by Theresa Gutierrez, with special contributions by ABC 7's Stacey Baca, Michelle Gallardo, John Garcia, and Roz Varon, Saturday, October 4 at 6:30 pm, with an encore presentation on Sunday, October 12, at 2pm. Gutierrez's last day at ABC 7 Chicago will be October 31st.
CAPTIONS
(From left to right) ABC 7 Chicago Reporter and Host of "The Ñ Beat" Theresa Gutierrez stands alongside President and General Manager for ABC 7 Chicago John Idler.
ABC 7 Chicago holds a luncheon in honor of Theresa Gutierrez's work at the station.