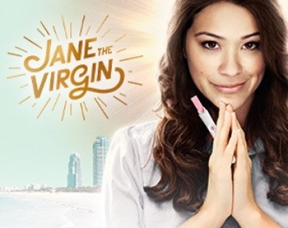 By: Nikoleta Morales
"Jane the Virgin" is an American serial comedy-drama television series on CW that deals with the surprising and unforeseen events that take place in the life of Jane Villanueva (Gena Rodriguez), a hard-working, religious young Latina woman whose family tradition and a vow to save her virginity until her marriage to a detective is shattered when a doctor mistakenly artificially inseminates her during a checkup. Her mom, Xiomara, is played by Andrea Navedo whom we asked a few questions about the new show.
Lawndale News: You play Xiomara. How do you relate to the character?
Andrea Navedo: I relate very much to the character. She is a single mom though I am not. I got to see my mother's struggles and witness first hand how hard it was to have a lack of education and lack of funds. I myself don't have that problem and it is super difficult to raise my kids. It is very challenging and I get how important it is for her daughter to be protected and the desire to pursue her own dreams as a singer, performer and I can relate on that level. I was an actress before I met my husband and we have been together for 17 years. I put acting on hold while my kids were little but my heart was always there.
Do you think the show sets an example of what some Latino families go through?
I think that they are going to be surprised to see an example of what they are going through and what their struggles may have been. When I was growing up I didn't see a lot of positive examples of me, my family and my identity. It didn't exist when I was growing up. I would imagine the viewers would be pleasantly surprised and feel included. I feel this show is sending a message of inclusion in diversity in casting and storytelling and behind the camera. Out of 12 episodes there are three male directors, Latino, black and more diverse.
So you believe the show reflects diversion and inclusion?
In the world that I live in, in different sections in the US there are more than just one type of people but the world I travel through is always diverse and always has been but you don't see that reflected on TV. You see it in some shows but in a lot of them you don't. [They show] unrealistic view of the world and exclude so many of the viewers that want to be watching.
What do you think about working with Gina Rodriguez who plays your daughter in the show?
Gina has been quite an amazing person and an example for me and the type of person I want to be. She is very intelligent, very talented, very comfortable in her own skin and she is a super generous person. I told her "Gina I want to be you when I grow up" (laughs). I admire her.
So you have a very welcoming atmosphere behind the scenes?
It takes a village to put a show on the air. We have been guests and costars in other TV shows and we all have experienced the feeling of not being welcomed so we decided as a cast that's not what we wanted and people felt welcomed and appreciative for all the hard work. Most of our guests get gifts. You get what you give. If you give positive energy, positive words it carries on and is paying forward. We are gracious to be on the show.
What are your future plans?
I did a comedy [parody] on "The Fast and the Furious" [called] "Super Fast "coming out next year.
Anything else you want the readers to know about you?
I am a very dedicated mom.
"Jane the Virgin" airs on Mondays at 9 p.m. on CW.