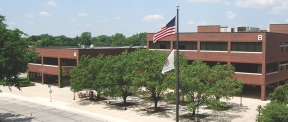 Dan Hampton, legendary defensive tackle for the Chicago Bears, will be the keynote speaker at Friends of Morton Foundation 3rd Annual Summit, scheduled for December 11 at Morton College.
"With this year's summit entitled Powering Through, it was just natural to think of Dan Hampton," said Sallie Nyhan, Development Officer for Friends of Morton Foundation. The Pro Football Hall of Famer was known as one of the most dedicated players in the NFL, powering through ten knee surgeries on top of multiple other injuries to earn multiple Pro-Bowl honors and a Super Bowl championship with the 1985 Bears team.
The summit, first established in 2012, plays an important role in fulfilling the mission of Morton College, the oldest community college in Illinois. The goal is to have attendees leaving empowered with an enhanced quality of life through learning opportunities and community services provided at the summit. Last year's keynote was Chris Kennedy, founder and CEO of Top Box Foods, with Anne Pramggiore, the CEO of Commonwealth Edison, as the 2012 speaker. For more information on the summit, and to participate as an attendee or sponsor, please contact Sallie Nyhan of the Friends of Morton Foundation at (847) 904-7060.