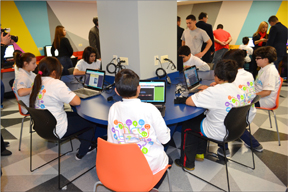 By: Ashmar Mandou
On Thursday, Nov. 13th, the Boys & Girls Clubs of Chicago's Little Village Club, 2801 S. Ridgeway Ave., received a wonderful surprise from Comcast during a press conference to celebrate the newly announced five-year partnership between Comcast NBCUniversal and Boys and Girls Clubs of America (BGCA).
At the press conference, BGCA and Comcast NBCUniversal announced they have forged a five-year national partnership, which includes the launch of My.Future, a new technology initiative formulated to each Club members about the digital world and infuse a passion for technology. My.Future allows Club members to choose from a plethora of activities that reinforce digital literacy. My.Future is part of BGCA's Great Futures Campaign, launched in July to cultivate success for more youth through enriching after-school and summer programs.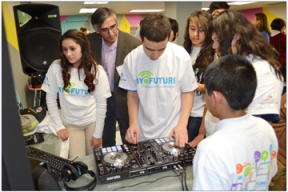 "We are proud to partner with Boys & Girls Clubs of America to teach youth about the endless possibilities that technology offers, while helping to bridge the digital divide," said David L. Cohen, executive vice president, Comcast Corporation. "We have supported local Boys & Girls Clubs for nearly 15 years because they truly make a difference in the lives of children across the country, inspiring youth to reach their full potential through hands-on programs that encourage children to explore and innovate."
To celebrate the partnership, Comcast renovated Boys & Girls Clubs of Chicago's Little Village Club with a state-of-the-art technology mobile environment; including 20 HP desktop computers, 20 Samsung Galaxy tab 4 educational tablets; ten HP laptops with touch screens, five Canon Eos Rebel cameras, music studio tools and video-editing technology. In addition, the Comcast Foundation provided on-site renovations, including new paint, furniture, and structural repairs.