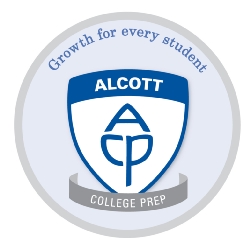 Chicago Public Schools (CPS), the City of Chicago and Alderman Michelle Smith (43rd) announced that construction of the Alcott College Prep – East Campus "Field of Dreams" will begin in Spring 2015 and is expected to be complete in the Fall. The project will provide students with high-quality recreation facilities that will benefit the community for years to come.
The plan for Alcott's "Field of Dreams," which was developed by CPS officials, school personnel and members of the school community, includes a variety of features that will revitalize the exterior of Alcott. The plans, which are fully funded, feature a number of high-quality facilities, including an artificial turf field, rubber-surface playground, poured-in-place running track, asphalt basketball court with textured surface paint, painted world map and other features. The facilities announced today follow the construction of an amphitheater featuring raised tree planters, which was built in 2013.
Alcott's "Field of Dreams" will be built with a total of $1.56 million in funding from multiple sources. The project will be completed with a $750,000 Illinois Green Infrastructure Grant from the State of Illinois, $600,000 in Open Space Impact Fee funding secured with the assistance of Ald. Smith, a $50,000 grant from the Chicago Cubs and $160,000 raised by the Alcott school community.