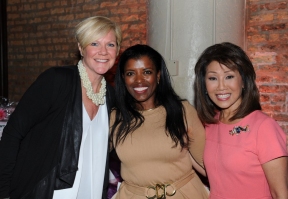 In Honor of Make a Difference Day, the largest national day of helping others, Lakeside Bank hosted its 7th Annual "Women Who Make a Difference" Awards Reception on Wednesday, Oct. 22nd and gathered employee volunteers for a day of service at Concordia Place on Saturday, Oct. 25th.
The awards reception was held at River Roast Private Events and emceed by ABC7 Chicago news anchor Linda Yu. Nearly 175 guests attended and honored one Lakeside Bank customer, Connie Murphy, Chief Marketing, Public Relations, & Development Officer, Mercy Hospital and Medical Center, and Executive Director of the Mercy Foundation, Inc. Murphy has been with Mercy for 23 years holding various positions in management and executive level leadership. Mercy Hospital's Comprehensive Women's Health and Cancer Center was a partner of this event, since October is also National Breast Cancer Awareness Month. Stephanie Neely, Treasurer, City of Chicago, was the keynote speaker. Visit www.makeadifferenceday.com for more information.
The attached photo from Left to Right: Award Winner Connie Murphy, Chicago Treasurer Stephanie Neely, Linda Yu.