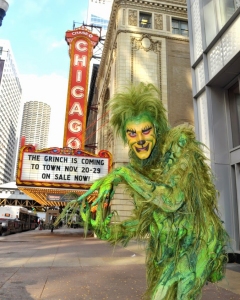 Por: Nikoleta Morales
Del 20 al 29 de noviembre, Chicago Theater presenta al Grinch en su musical "Dr. Seuss' How the Grinch Stole Christmas!" La clásica historia Navideña del Dr. Seuss vuelve a la vida en el teatro, trayendo consigo el espíritu de la temporada navideña. La audiencia sentirá la magia de las fiestas con sus canciones, "You're a Mean One, Mr. Grinch" y "Welcome Christmas".
"Vivo con mi perro Max", dijo el Grinch en una entrevista con el Lawndale News. "Robé la Navidad porque la gente se equivoca. Cree todo es regalos, no, lo que hace la navidad en sí, es la familia".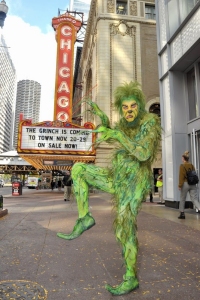 Max el Perro sirve como narrador de la historia mientras el intrigante Grinch planea robar la Navidad a los Whos, adorables personajes que entienden y abrazan el verdadero significado de la navidad. Cuando el Grinch se da cuenta de que no puede robar la Navidad a Who-ville llevando regalos, regresa los regalos y los ornamentos y se une a las festividades viendo que todo lo que se necesita es unpoco de amabilidad y alegría para hacer que un Grinch no sea tan malo después de todo.
"Disfruta una maravillosa temporada navideña. Quiere a tu familia y ven a verme al Chicago Theater", dijo el Grinch a todos los lectores del Lawndale. "Dr. Seuss' How The Grinch Stole Christmas!" tiene características especialmente diseñadas para el Teatro Chicago, con trajes inspirados en las ilustraciones del Dr. Seuss. La producción del 2014 está dirigida por Matt August y coreografiada por Bob Richard, en base a la coreografía original de John Peluca y originalmente creada por el tres veces premiado con el Premio Tony, Jack O'Brien. Los precios del boleto fluctúan entre $35 y $125. Para más información, visite: www.thechicagotheatre.com.