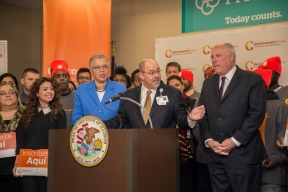 On November 13, Governor Pat Quinn and Cook County Board President Toni Preckwinkle kicked off the second year of open enrollment for health care coverage under the Affordable Care Act (ACA) at a news conference at Presence Saints Mary and Elizabeth Medical Center (PSMEMC).
This year, Presence Health is partnering with Enroll America, a nonprofit organization focused on maximizing the number of Americans who are enrolled in and retain health coverage. Presence Health is also partnering with several in-person counselors (IPCs) from trusted community partners, such as PrimeCare Community Health and the Puerto Rican Cultural Center, to help answer questions and enroll people in health insurance plans. Open enrollment to sign up for health plans began November 15 and will end February 15, 2015.
The medical center will provide ongoing on-site office hours for enrollment on Mondays and Wednesdays from 9 a.m. to 1 p.m. – and Tuesdays and Thursdays from 1 to 5 p.m. at the Saint Mary Campus, first floor lobby. Appointments are strongly recommended and can be made by calling 312-770-3736 to ensure fluent enrollment assistors will be available and that consumers bring required documents to complete enrollment.