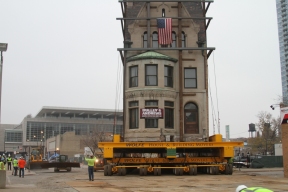 The Harriet Rees House began its historic relocation last week what is believed to be the heaviest residential structure moved in U.S. history. The three-story, 762-ton Chicago landmark traveled one city block (600 feet) north from 2110 S. Prairie Avenue to rest just outside of its replacement location at 2017 S. Prairie Avenue. The brick and limestone mansion completed its journey in a day, after being backed into position above its new foundation via a slow 90-degree turn.
The relocation, approved by the City of Chicago Commission on Chicago Landmarks, is part of Mayor Emanuel's "Elevate Chicago" initiative. The Rees House was moved to make way for the McCormick Place Entertainment District, which will include a 10,000-seat event center and a 1,200-room Marriott Marquis Headquarter hotel.
The move and restoration of the Rees House are being coordinated by Chicago contractor Bulley & Andrews, with Thornton Tomasetti serving as the project's engineering firm. Wolfe House and Building Movers is performing the move of the structure.
Built in 1888, the Rees House is a cornerstone of the Prairie Avenue Historic District, a grouping of late 19th century mansions built in the neighborhood by prominent Chicagoans, including George Pullman and Marshall Field. After its relocation, the Rees House and its coach house will occupy a lot adjacent to the William H. Reid House and the Wheeler Mansion.