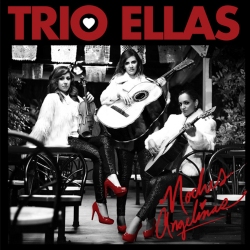 By: Ashmar Mandou
Latin GRAMMY Award Nominee Trio Ellas has been enchanting music lovers across the country with their interpretation of traditional mariachi music since releasing their debut album, "Con Ustedes" two years ago.
"It has been an amazing experience so far just being able to do what we love to do," said Stephanie Amaro, guitarist and vocalist for Trio Ellas, who is one third of the female group. "It is a dream. We enjoy playing our music for people and to know they respond to our music in a positive way really makes it better." Born and raised in Los Angeles, California, Amaro is a former ballet dancer with roots in traditional mariachi, rock, and electronica. "I remember being introduced to mariachi music at a very young age by attending family gatherings, like birthdays and picnics," said Amaro. "I saw how the music made my family feel, how the music affected them so it was always a part of me." Trio Ellas is composed of Nelly Cortez (guitarron and vocals), who was born in Guadalajara, Jalisco and is the fourth generation of a traditional mariachi family and Suemy Gonzalez (violin and vocals), who grew up in Sacramento, California and was the first Latina to graduate from USC's pioneer Popular Music Program.
What made Trio Ellas earn the respect and adoration of fans, including Sheila E., Benjamin Gibbard, and Lady Gaga was there ability to reinterpret the sound of mariachi to incorporate influences of boleros, bluegrass, flamenco, and gypsy jazz with a contemporary pop twist. Trio Ellas constructed a unique sound by blending their individual interests and musical backgrounds as evident in their albums, "Con Ustedes," and their recent release, "Noches Angelinas." "What's funny and what we find to be interesting is that our first album was in the mariachi category and now with our recent album we have been placed in the pop category. That just goes to show you that we are not limited to a specific sound or box. We refuse to be. We play music that inspires us and we play how we feel," said Amaro. Chicagoans will have the opportunity to witness Trio Ellas as they come to Chicago on December 17th at the National Museum of Mexican Art, 1852 W. 19th St., at 7p.m. for a one-night only concert, presented by the Mariachi Heritage Foundation. "We hope Chicago will enjoy the show and be inspired by our music," said Amaro. To learn more about Trio Ellas, visit trioellas.com. To purchase tickets, visit www.reverbnation.com.