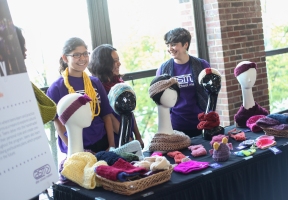 After School Matters® is now accepting applications for its spring program cycle. Programs in the arts, communications, science, sports and technology will be offered beginning the week of February 2nd at Chicago public high schools, Chicago Park District, Chicago Public Library and community-based organization locations across the city. In total, approximately 7,000 paid apprenticeship and internship opportunities in more than 300 programs will be available to Chicago high school teens this spring through After School Matters. Spring programs will meet approximately three days a week for three hours per day over the course of ten weeks. A few of the innovative programs offered throughout the city this spring include:
BeatLAB – Tech
Location: Better Boys Foundation, Lawndale
BeatLAB is a digital music program that teaches teens the basics of music theory and note reading, recording, improvising and composition instruction. Teens work in BBF's music technology studio, which houses 12 individual workstations each outfitted with an Apple MacBook computer and MIDI keyboard.
Glass Mosaic Project – Arts
Location: Gallery 37 Center for the Arts, Loop
Teens in this program will work to create a public art memorial honoring former Chicago First Lady Maggie Daley. This memorial, which will be displayed in Maggie Daley Park, will reflect Mrs. Daley's luminous personality, her vision and dedication to the teens of Chicago, as well as her love of the arts.
Music Video Production – Tech
Location: Prosser Career Academy High School, Belmont Cragin
Music Video Production explores video production with an emphasis on original music and content. In this program, teens will learn to mix beats, produce, direct, shoot and edit their own music videos. For questions about programs and applications, call 312-742-4182 or email info@afterschoolmatters.org.