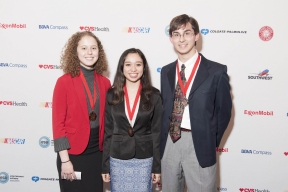 Para muchos inmigrantes, el Sueño Americano es solo un sueño, pero para tres estudiantes hispanos de último año de secundaria de Chicago, este sueño está más cerca que nunca de convertirse en realidad. A través de su arduo trabajo, sobresaliendo en el salón de clases, incontables horas comunitarias y su deseo de convertirse en la primera generación de estudiantes universitarios en su familia, Victoria Erdel, Alexandria Charmoli y Alexander Guiteras pudieron sobresalir y recibir una beca para su educación universitaria. Como parte del subsidio Haz La U de Colgate-Palmolive, en colaboración con la Fundación Herencia Hispana, el programa de subsidios educativos Youth Awards, actualmente en su 15 aniversario, ya ayudado a aumentar la cantidad de hispanos inscritos en la universidad, ayudando a disminuir la tensión financiera de familias hispanas en Estados Unidos. El pasado 24 de noviembre en la Universidad Loyola, estos tres estudiantes de Chicago recibieron el premio Servicio Comunitario de Haz la U Colgate-Palmolive, recibiendo cada uno $1,500 para su educación.
Victoria Erdel – ORO
Colegio: Universidad de Notre Dame
Secundaria: Penn High School
Nacionalidad: Ecuatoriana-Americana
Se graduó con un GPA de 4.00, Erdel espera continuar ayudando a la comunidad con una carrera en el campo médico mientras se gradúa en química en la Universidad de Notre Dame, Wheaton College o Bethel Collete.
Alexandria Charmoli – PLATA
Colegio: Universidad de Michigan
Secundaria: Naperville Central High School
Nacionalidad: de descendencia mexicana
En el futuro, Charmoli quisiera estudiar comercio y trabajar en una organización no lucrativa para continuar respaldando a una comunidad que le ha dado tanto. Se gradúa con un GPA de 3.91 y planea graduarse en mercadeo en la Universidad de Michigan, la Universidad de Pennsylvania o la Universidad de Wisconsin-Madison.
Alexander Guiteras – BRONCE
Colegio: Savannah Collage or Art and Design
Secundaria: Lake Forest High School
Nacionalidad: de descendencia española
Guiteras dice que quiere a toda la gente que conoce y ve sonreir la cara de los niños que reciben un almuerzo o un libro nuevo gratis, es una experiencia maravillosa. Espera continuar su voluntariado después de graduarse de secundaria y asistir a Savannah Collage or Art and Design, Chapman University o Colby-Sawyer College especializado en Diseño Gráfico.
Pie de Foto:
(de Izq. a Der.) Victoria Erdel, Alexandria Charmoli y Alexander Guiteras.