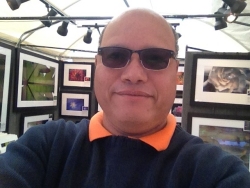 Por: Nikoleta Morales
Oscar Matos Linares es un fotógrafo puertorriqueño que captura imágenes naturales, no solo con su cámara, sino con su corazón. Inspirado en su nativo Puerto Rico. En el 2012, creó su propia serie "Delicates" con imágenes inspiradas en diferentes parques de conservación de Puerto Rico.
"La naturaleza me recuerda mi casa en la que crecí. La quiero. La extraño. No la veo muchas veces en la ciudad", dijo Linares, quien tomó parte una vez más, por 6º año consecutivo, en el Show de Chicago One of a Kind. Este año estará mostrando "mucho más estilo personal con líneas y extractos". Los precios por su fotografía varían de $30 a $100 y los tamaños de 8×12 a 20×30. Linares estudió fotografía en la Universidad del Sagrado Corazón en Puerto Rico y en 1992 se vino a Chicago donde recibió un diploma en fotografía de Columbia College. Se siente inspirado por la obra de Nitza Luna, Henri Cartier-Bresson y Pete Turner. "Haz algo que te recuerde quien eres", dijo Linares a los lectores del Lawndale.
El Show One of a Kind regresará al Merchandise Mart del 4 al 7 de diciembre, con más de 600 artistas juramentados y un año nuevo de artículos diestramente artesanados y únicos, ofreciendo a los compradores miles de opciones para regalos navideños únicos en su clase. Para más sobre el arte fotográfico de Linares visite: www.lpstudios.net.