Por: Nikoleta Morales
"Night at the Museum: Secret of the Tomb"
[La Noche en el Museo: El Secreto de la Tumba"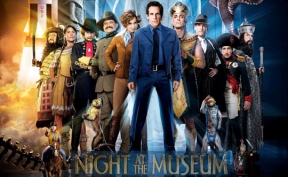 Si has disfrutado y te ha gustado la película La Noche en el Museo, partes una y dos, definitivamente recordarás la parte tres, no solo por los grandes efectos y graciosos momentos en la película, sino porque fue la última película de Robin Williams, antes de morir. Hay algo al verlo interpretar a Theodore Roosevelt y las últimas palabras que dice a Larry al final de la película, que le hace a uno darse cuenta de que este es verdaderamente el último personaje memorable que este icónico actor nos dejó. Sus últimas palabras en la película suenan como si supiera que las estaba diciendo por última vez. El brillo de sus ojos es tan brillante y sin embargo tan triste, que empiezas a entender que había algo más en este actor de lo que nosotros sabíamos. Escogió el papel preciso para dejarnos antes de su muerte.
En esta parte, tras saber que la magia del museo está desapareciendo, el vigilante nocturno, Larry Daley (Ben Stiller) establece una búsqueda épica para salvar la magia del mismo, descubriendo el secreto de La Tableta de Ahkmenrah. Pero no sabían que se encontrarían con un inesperado enemigo en el Museo Británico, el rostro de Sir Lancelot (Dan Stevens). La película está en todos los teatros a nivel nacional.
"Into the Woods"
[En el Bosque]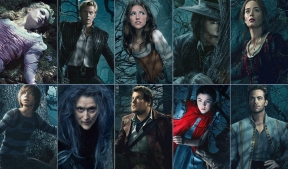 Si usted ha sido fanático de Disney, puede sorprenderse un poco con su nueva película musical "Into the Woods". Esta película estrenada en Navidad no tiene el tradicional final feliz de las películas, ni se ajusta realmente a la clasificación PG. Es un tema muy siniestro, un poco depresivo y más una película para adultos que para audiencia joven. Adultera y empaña los personajes de Cenicienta, El Príncipe, Caperucita Roja y Jack y la Planta de Habichuelas que una vez conocimos.
La película fue dirigida por Rob Marshall y escrita por James Lapine, quien esta vez no usa el enfoque mágico tradicional de Disney. La película fue adaptada del musical de Broadway ganador del Premio Tony de Stephen Sondheim, del mismo nombre. Lo que hace a la película digna de verse no es el tema, que tiende a ser no muy bien desarrollado, si no por el elenco y la gran actuación de Maryl Streep (La Bruja), Johny Depp (el Lobo) y Emily Blunt (La Esposa del Panadero), asi como por sus efectos especiales. Mary. Streep es quien se lleva la mayor parte de la película y la vemos en un papel y luz que no estamos acostumbrados a ver en tan brillante interpretación.
El Huffington Post dice que el tema "Tu no estás solo" de la película, fue adaptada del discurso del Presidente Obama del 10º aniversario del 9/11. El objetivo del tema es transmitir un mensaje positivo, sin embargo muestra destrucción, muerte y oscuridad en lo que se supone es una película navideña familiar que podría parecerse a una tragedia de la vida real, como la del 9/11, con el complot de una mujer gigante destruyendo y matando personajes en sus hogares. La tradición familiar de Disney toma un inesperado giro, siguiendo los discursos inspirados en un presidente y adaptándolos a eventos trágicos reales.
Algunos de los personajes, como la Cenicienta (Anna Kendrick) no transmiten la imagen tradicional del conocido personaje. Yo no vi a Cenicienta en Anna Kendrick, quien fue una pobre elección interpretativa, cuando representó su parte. Ni su actuación ni su apariencia estuvieron a la altura del icónico personaje de Disney.
En muchas formas "En el Bosque" mata no solo a algunos de los personajes de la película, sino a la imagen que tenemos de los caracteres tradicionales que todos conocimos y disfrutamos, así como sus historias.
Como una fanática de Disney, estoy desilusionada al decir que esta vez Disney falló en continuar con su mágico legado, al hacer una película para niños siniestra, adulterada y mal tramada. La fiebre de "Frozen" no se repetirá en esta película. "In the Woods" sale a los teatros el 25 de diciembre.