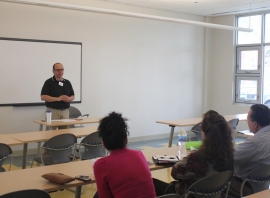 By: Diana Pando
Editing by Lawndale Bilingual Newspaper
With area families still struggling to recover from the recession and living paycheck to paycheck, The Resurrection Project (TRP) has teamed up with Mission Asset Fund (MAF) and Chase Bank to create a new social loan program called Lending Circles.
The Lending Circles is designed to help financially vulnerable families save money, establish a credit history, and improve their credit score. As part of the program, participants will be required to create a savings plan, and will be able to meet with a TRP financial coach to establish and accomplish financial goals. Participants will be required to attend a financial coaching session before they apply to ensure they are qualified.
"This is an important expansion of our financial literacy programming," says Kristen Komara, vice president of Financial Wellness. According to a recent Demo's national survey,"43 percent of Latinos are reporting using their credit cards to pay for basic living expenses like rent, mortgage payments, groceries, utilities or because they did not have enough money in their checking or savings accounts."
TRP's Lending Circles program was created with these families in mind. Unlike informal lending circles where you make a payment to family or friends, TRP Lending Circles payments will be reported to the credit bureau. Payments are guaranteed by Chase Bank ensuring that all participants receive their full loan amount. "It's a safe and affordable way to build credit," said Madeline Cruz, TRP's Financial Coach. "It provides a zero-interest and zero-fee loan that can be used towards the individual's financial goals." The Lending Circles are a non-traditional option to building and re-establishing credit because of the less conservative eligibility requirements. Most people are expected to use the money to pay off debt or to save for home ownership, a new business, an emergency fund, college fund, or larger expense.
Currently, TRP is one of two organizations in Illinois providing lending circles. The TRP Lending Circles are supported by JP Morgan Chase. The Lending Circles are managed and licensed by the Mission Asset Fund (MAF), a nonprofit organization based in California dedicated to creating a fair financial marketplace for working families. MAF is an official lending circles provider. For more information on how to sign up for TRP's Lending Circles please contact Madeline Cruz, Financial Coach, at 312-217-5598 or via email at mcruz@resurrectionproject.org The next bilingual information Lending Circles workshop will take place on the following day: Wednesday, January 7th 5:30PM to 6:30 PM English session / 6:30PM to 7:30PM – Spanish Session; 1914 S Ashland, Chicago, IL 60608