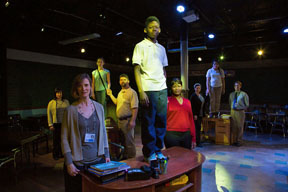 By: Ashmar Mandou
Mired in political contention, the shuttering of Chicago public schools was undeniably an issue that affected families across the city and was the key topic of debate between Mayor Rahm Emanuel and Cook County Commissioner Jesus "Chuy" Garcia, which forced them into the city's first mayoral run-off election on April 7th.
In response, Collaboraction, a non-profit that collaborates with artists, community leaders, health professionals and citizens to create original theatrical experiences, announced it will add two more weeks to its current hit, Forgotten Future: The Education Project, which will now run through March 22nd at Collaboraction at the Flat Iron Arts Building, 1579 N. Milwaukee Ave., room 300 in the city's Wicker Park neighborhood.
The Forgotten Future: The Education Project documents the experiences of three different students, played by real life Chicago students who attend a Chicago public or charter school. Actors Leah Aberman, 7th grader at Lane Tech Academic Center, Esmeralda Ayvar-Perez, a sophomore at Lane Tech High School, and Tyrese Hall, a 6th grader at Alain Locke Charter School, invite audience members to witness issues many students have to compete with including standardized testing, cultural barriers, overworked teachers, and safety.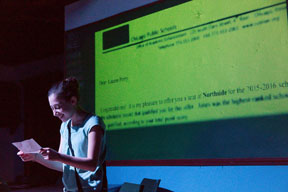 The Forgotten Future: The Education Project performances are Thursday, Friday, and Saturday at 7:30p.m., and Sunday at 3p.m. Collaboraction Theater Company added Industry Night performance on Monday, March 16th at 7:30p.m. Additionally, on Thursday, March 5th at 7:30p.m., Collaboraction will host "CPS Day" with a discounted ticket for all students and educators.
Forgotten Future is supported by The MacArthur Funds for Arts and Culture at the Richard H. Driehaus Foundation, the Gaylord and Dorothy Donnelly Foundation, Chop Shop/1st Ward Events, Reed Rigging, Inc., Wicker Park Bucktown SSA#33, Chicago Athletic Club and AV Chicago. This program is partially funded by the Illinois Arts Council, a state agency.