Por: Ashmar Mandou
Hundido en la contienda política, el cierre de las escuelas públicas de Chicago fue indiscutiblemente un problema que afectó a muchas familias de la ciudad y fue el tema clave del debate entre el Alcalde Rahm Emanuel y el Comisionado del Condado de Cook, Jesús "Chuy" García, que los forzó a las elecciones de la primera segunda ronda para la alcaldía de la ciudad, el 7 de abril.
En respuesta, Collaboraction, organización no lucrativa que colabora con artistas, líderes comunitarios, profesionales de la salud y ciudadanos para crear experiencias teatrales originales, anunció que agregará dos semanas más a su actual hit, Forgotten Future: The Education Project [Futuro Olvidado: El Proyecto Educación] que se presentará ahora hasta el 22 de marzo en Collaboraction en el Edificio Flat Iron Arts, 1579 N. Milwaukee Ave., Salón 300 en el barrio del Wicker Park de la ciudad.
The Forgotten Future: The Education Project documenta las experiencias de tres diferentes estudiantes, interpretada por estudiantes de la vida real de Chicago que asisten a una escuela pública o a una escuela charter de Chicago. Actúan Leah Aberman, del 7º grado en Lane Tech Academic Center, Esmeralda Ayvar-Pérez, estudiante de segundo año de secundaria Lane Tech High School y Tyrese Hall, estudiante del 6º grado en Alain Locke Charter School e invitan a los miembros de la audiencia a testificar los problemas que muchos estudiantes tienen para competir con pruebas estandarizadas, barreras culturales, maestros sobrecargados de trabajo y seguridad.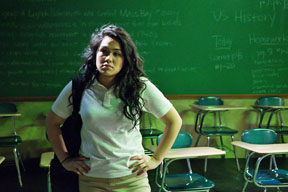 The Forgotten Future: The Education Project, sus actuaciones son jueves, viernes y sábado a las 7:30 p.m. y el domingo a las 3 p.m. Collaboraction Theater Company agregó la representación de Industry Night el lunes, 16 de marzo, a las 7:30 p.m. Adicionalmente, el jueves, 5 de marzo a las 7:30 p.m., Collaboractioin presentará "CPS Day" con entrada rebajada para todos los estudiantes y educadores.
Forgotten Future es apoyado por los Fondos para Arte y Cultura MacArthur en la Fundación Richard H. Driehaus, la Fundación Gaylor & Dorothy Donnely, Chop Shop/1st Ward Events, Reed Rigging, Inc., Wicker Park Bucktown SSA#33, Chicago Athletic Club y AV Chicago. Este programa es parcialmente patrocinado por Illinois Arts Council, agencia estatal.