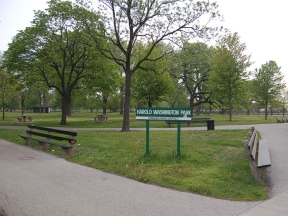 Mayor Rahm Emanuel, State Senator Donne Trotter, State Representative Marcus Evans, Aldermen Michelle Harris, Walter Burnett, Jr., Danny Solis and the Chicago Park District joined Conrad Worrill and community members to hold a rally at Gately Park in Pullman to urge Governor Bruce Rauner to immediately reverse his decision to freeze previously awarded state grants from the Illinois Department of Natural Resources (IDNR); Chicago stands to lose $28 million in funding for 27 park improvement projects in 25 parks that are planned or in progress if the freeze is not undone.
The rally was held at Gately Park in Pullman, which is one 25 parks throughout Chicago that will be negatively affected by the spending freeze. In October of 2014, Mayor Emanuel joined members of the Pullman community to announce that a $20 million investment from the City and state would fund the construction of a new indoor track facility at Gately Park. This project would be the first public indoor track in the City and is a project that community members have advocated to build for more than three decades. Now that IDNR grants are frozen, the project will lose $2.5 million in funding, meaning the project cannot move forward.
A total of 27 Chicago projects at 25 parks across Chicago stand to lose $28 million for improvements if this funding is not restored. Late last year, an economic analysis showed that parks and playgrounds are a driver of economic growth for the City of Chicago. The analysis concluded that Chicago Park District parks add at least $900 million to the value of residential properties located close to parks.