By: Ashmar Mandou
HACEMOS and AT&T hosted the 17th annual National High Technology Day to promote Science, Technology, Engineering, and Math (STEM) for more than 2,200 high school students across the country on February 27th in downtown. "Our goal is to empower young minds so they can become leaders in the career fields of their choice," said Cinthya Allen, Executive Vice President Operations for HACEMOS. "We rely on the participation of many local and national groups to make this multi-city event a success every year, and we are extremely proud of our continued growth over the years."
Students from 32 different cities, including students from Benito Juarez Academy and Schurz High School, participated in hands-on activities from connected cars, cyber security, to conversing with experts in research, conservation, and exploration. Technology Day involved specialty tours, keynotes from top AT&T executives and also had the opportunity to experience the dangers of texting while driving with AT&T's IT Can Wait campaign. HACEMOS is an industry-leading Hispanic/Latino employee resource group at AT&T with more than 8,400 employee members in the U.S. AT&T's Aspire Mentoring Academy was also part of this year's National High Technology Day.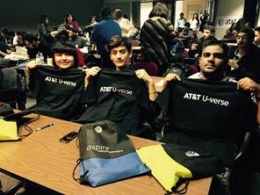 Photo Caption 1:
(L-R) Steven Guillen, Michael Haley and Vivl Patel of Roosevelt High School hold up their HACEMOS and AT&T U-verse goodie bag t-shirts. The students said they found the experience interesting and were amazed to see people like them in tech industry.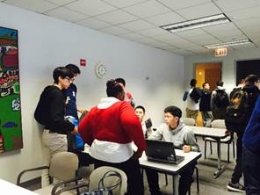 Photo Caption 2:
Mrs. Pete and her students from Roosevelt High School talk about their experience using the MIT App Inventor. They were one of the many teams that learned how to make their own application.